The conference will take place in the premises of the University Library in Bratislava. The library is situated right in the heart of historic Bratislava, in close proximity to all well-known sights of Bratislava, such as the Primate's Palace, the Main Square, the Slovak National Theater, Reduta, the Coronation Cathedral of St. Martin, Mirbach Palace, Michalska Tower or Old Town Hall. The main entrance to the University Library is located on Ventúrska Street no. 11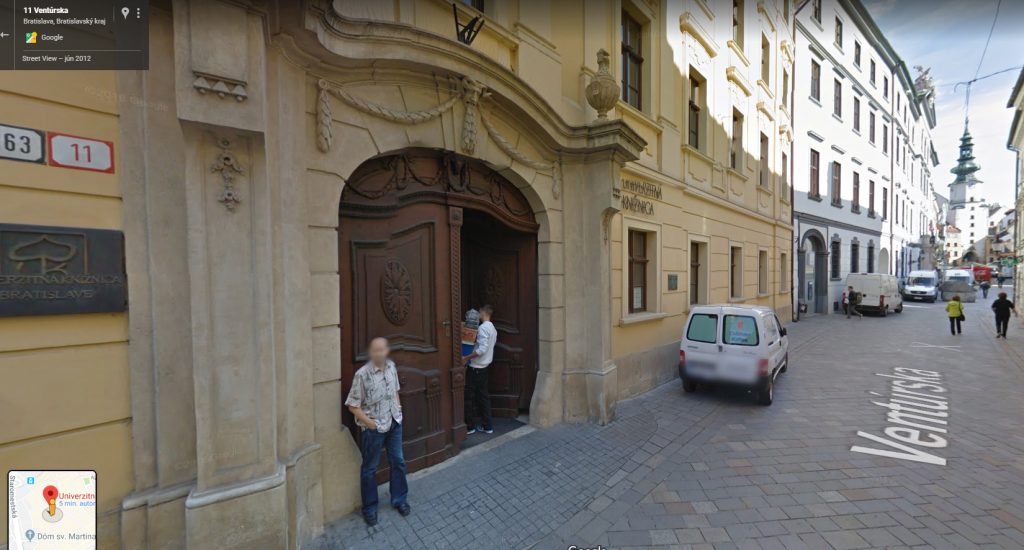 How to get there?

The best transport from the Main train station (Hlavná stanica)to the conference venue is by tram no. 1 to SNP Square and then walk about 5-7 minutes to the library. You can also take the tram (any line) to the Blumentál stop and then change to line 4 to Chatam Sofer. In this case, it is necessary to get off at the Kapucinska stop and from there on foot to the city center. The entrance to the library is within a 5-minute walk. It is also possible at the Blumentál stop to change to line 3 to Námestie SNP (SNP square).
From Petržalka railway station: by bus no. 99, get off at Farského stop, change to tram no. 1, get off at Šafárikovo námestie stop, then walk across the city center to Ventúrska street.
For traveling by public transport you will need a 30-minute ticket from Main Station, which is transferable and therefore valid at all times on all routes.
If you are going to the conference by car, it should be remembered that the conference takes place in the historic center, where car entry is prohibited and therefore you will need to leave your car in one of the nearby paid (Tesco Kamenné námestie, Garáž Centrum, Parkovisko Opera) or park free at more remote parking places (Tesco Zlaté Piesky, OC Galéria Lamač, Bory Mall Lamač, and many others ) close to shopping centers at all entrances to the city and subsequent use of public transport to the city center.
From Bratislava airport: by bus no. 61, get off at Račianske mýto stop, change to tram no. 3, get off at Námestie SNP, then walk across the city center to Ventúrska Street.
From Vienna-Schwechat Airport: boarding at the Slovak Lines, Flixbus or RegioJet stop in front of the main airport terminal, exit at the bus station under the New Bridge (Nový most) and then walk to Ventúrska Street (it will take about 3 – 5 minutes).

From the Mlynské Nivy bus station: take bus no. 70, get off at the Malá scéna theater stop, walk to Šafárikovo square and cross the center of the city to Ventúrska street.

The Danube Harbor is only a few minutes' walk from the University Library (approx. 3-5 minutes).